New checkpoint and barrier to combat poachers
A few months ago, we launched the construction of a fourth checkpoint within the concession. This checkpoint was placed in a strategic location on the Yanayacu River: at the entrance to the Camungo stream. Below the checkpoint, we also placed a floating barrier to prevent poachers from entering the concession.
This month we returned to check the condition of the area. As a result, the checkpoint and the floating fence have been very effective. No poachers were able to get through, and the animals, fish and timber were protected on this side of the concession!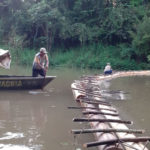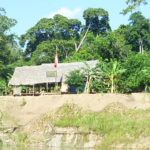 We were also able to talk to the communities near the area who were very excited about this new victory. According to them, the wildlife will be able to reproduce in the absence of poachers! From now on, our teams will continue to monitor the area carefully.