Successful outreach to communities in the concession!
This month, Charlene, Lotty and Steffanny (Envol Vert's forestry engineer) went to the Conservation Concession to carry out outreach workshops with the different communities in the area. The workshops focused on the status and importance of the Yanayacu Maquia Conservation Concession and the services it provides to the environment and biodiversity.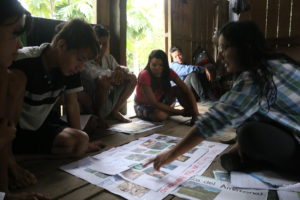 Despite uneven participation rates in different communities, the workshops were generally successful. People seemed interested and involved in the project. Children and women in particular made themselves available for these collective sessions.
In addition, we were able to present the upcoming agroforestry and crop diversification projects that Biodiversité Amazonienne and Envol Vert intend to implement. The projects seemed to be well received, and the inhabitants motivated to participate in the training and awareness-raising activities.
While Lotty and Charlene had to leave the concession after a few days, Steffanny will remain on site to continue the socio-economic and agricultural diagnosis of the area, while carrying out awareness-raising activities.