Accident in the Ampicocha Lagoon
This month we publish an anecdote from the logbook of Lotty Morey, president of the Amazon Biodiversity Association. Because not everything is rosy, we also wanted to share with you some of the difficulties faced by members of the field team. Today, we tell you the story of Ivan, the concession's main ranger, who faced complications due to bad weather.
Ivan, accompanied by 2 assistants, went to the Romayna Creek to evict hunters and loggers in search of commercial trees that no longer exist outside the concession. There was a big storm, the water in the lake got rough and the boat flipped over with the engine and all the equipment in it. They were then rescued by 3 people from the Florida community located on the shores of the lake. After several dozen minutes, they were able to turn the boat around. They recovered the engine full of water.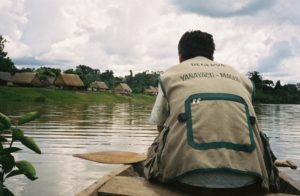 Ivan dived several times to try to retrieve his backpack containing his mobile phone, bills, maps and other important items. He was trapped in a space on the boat, which fortunately remained dry.
However, he was unable to retrieve the bag containing important equipment: pliers, keys, spark plugs and other equipment that must be carried on every long journey. The staff escaped with a few bruises, fortunately not serious. However, the engine was unusable. It was repaired a few days later, allowing Ivan to continue to deter poachers from the concession.