Strength in numbers: CCYM joins WAPA
This month, the project joined a network of national Conservation Concessions. The AMPA association, which federates many private conservation initiatives in Peru, facilitated the integration of CC Yanayacu Maquia into the network active in the San Martin region. This was an excellent way to learn together and to share their respective initiatives.
The partnership has already borne fruit and Lotty has already attended her first group training session on digital satellite monitoring tools. It was MPAA that provided the training and thus enabled the whole network to use the Global Forest Watch platform, a very powerful tool that monitors and warns in real time of possible forest degradation activities.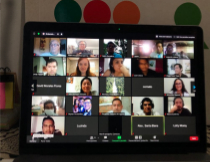 In the future, we hope to be able to jointly develop sustainable economic alternatives linked to the non-timber resources of the concession. This is a key step for the sustainability of the project.
More information on AMPA and the event that took place here (in Spanish only) > http://ampaperu.info/tecnologias-frente-a-la-deforestacion-en-tiempos-de-pandemia-capacitacion-virtual-con-la-red-de-conservacion-de-san-martin/